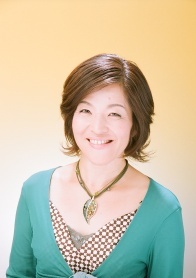 Maki McCarthy hails from Yokohama, Japan.
Maki came to Cairns, Australia, in 1997. She worked as a diving instructor for five years. She has met many people from around the world and shared her wonderful diving world with people from all every nation.
Maki loves the ocean and has been to Brazil, Mexico, Grand Cayman, Belize, Cuba, the Maldives, Papua New Guinea, Guatemala, the USA and Europe for diving and travel.
From her diving and traveling she fell in love with the colour that the ocean and its environment possessed, especially turquoise blue from the shallow warm water which made her calm, very happy, and content. She would travel anywhere for it.
Colour Consultant
Maki was introduced to Aura Soma colour therapy in Australia. She found that people were reflected in the colours that they chose. Colour tells you about the person. We are surrounded by colour and colour is so powerful.
She now lives inCairns with her fire fighter husband Mike.
Now a certified colour analyst, Aura-soma Colour Practitioner, Image Consultant,Yoga Instructor and Interior Designer.
Maki has also an Economics Degree.
Maki would like to show people what are the best colours for them, helping to make them very happy, comfortable and confident.
She would like to see lots of happy people through colour consultations and colour therapy.