Aura soma is an exciting colour system
Aura-Soma uses colour to reflect your innermost truth
This session is an amazing and delightful experience.
The Aura-Soma Consultation
The jewels in the Aura-Soma system are the Equilibrium bottles.
A magic combination of vibrant colours, blended with the living energy of herbs, essential oils, gems and crystals.
By simply making a selection of 4 Equilibrium bottles from brilliant range of over 100 coloured bottles, you are handed the key that opens the door to self-discovery.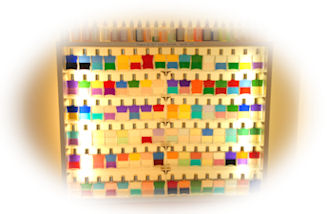 Testimonials
Maki was very friendly and professional. I felt I could relax during session. I was in doubt about my future at that time, so I thought that with aura-soma, I could see what I really wanted to be and it could open my eyes to the world of colour. Thank you. S.A.
---
Before I attended the colour therapy session, some things just didn't go smoothly for me. After I did the aura-soma session with you, I realised my problem and discovered a solution. That was good timing and thank you. Y.
---
I found true my self and I now know what I want to be, I will act and do something from now on. I was struggling to make friends in a new area. Maki told me that too many black colours in my clothing shields your self from others and causes other people to keep their distance. I will try to wear bright colours more. Cheers. M.S.
---
After your advice, I am more relaxed and be myself anywhere. I recommend your service all my friends, and I am so glad to see they become happy through colours. Your happy smile makes me happy. Thank you. T.S
---
With the chakra balance massage I could feel all the colours with my body and could feel the energy. It was a great healing experience. Thank you. S.
---
I was very surprised with the aura-soma colour session. Thank you for your heartfelt advice. M.M
---
After your session I am now so interested in colour. You and your colour session made me very positive and happy.
Thank you. Y.Y.
---
Thank you for today. It was good advice about my job hunting. I can work positively now and I will try to relax in the green park before heading off to Japan - I will try to think positively all the time. Your advice was great, but also your personality healed my heart. Thank you. M.K.
---
I certainly will look at the aspect of colour a lot closer after finding out from you all those secrets of colour. Much appreciated for all your efforts. P.G.M.